Hey guys what's up Jimmy here with this weekend's results!
Well we'll start with Saturdays fixtures, it proved to be a quite tame weekend with many draws and wins by only 1 goal. Everton gave us a surprise when they beat Man City 2-1 but they shouldn't have much to fear as they have pretty much secured a champions league place. West Ham, Wigan and Blackpool dropped points moving them closer to relegation.
Sunday's results now and Wolves showed their spirit as they beat West Brom by 3 goals to 1 allowing themselves to climb out of the bottom 3. Stoke also provided a surprise as they beat Arsenal 3-1 ending any comeback by the gooners to challenge for the title. Finally the biggest match of the day fell to Manchester United and Chelsea, the game got to a quick start as Hernandez scored for United within 33 seconds! Vidic made it 2 for United and even a goal by Frank Lampard to make it 2-1 could not stop the red devils who after winning 2-1 have all but secured the Premier League title this season.
Saturday's Results
Aston Villa 1-1 Wigan
Bolton 1-2 Sunderland
Everton 2-1 Man City
Newcaslte 2-1 Birmingham
West Ham 1-1 Blackburn
Tottenham 1-1 Blackpool
Sunday's Results
Wolverhampton 3-1 West Brom
Stoke City 3-1 Arsenal
Manchester United 2-1 Chelsea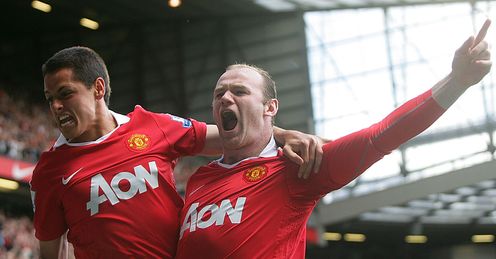 Tomorrow I'll be posting a detailed response about Fulham vs Liverpool's game at Craven Cottage so keep an eye out for that!